Features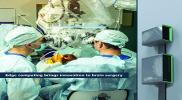 Edge Computing Leverages Modular Power in Scalable Micro Data Centres - May 2022
Edge computing is essential to realizing the full potential of artificial intelligence (AI), machine learning and internet of things (IoT). These technologies are being infused into every corner of...
More details...
Power Electronics Europe News
To meet the need for smaller, lighter systems in EVs and hybrid EVs, Texas Instruments offers the UCC14240-Q1....
Analog Devices has developed the LTC3337 nanopower primary (non-rechargeable) cell battery state-of-health monitor...
Efficient Power Conversion (EPC) has introduced the EPC2069 eGaN FET for high power density telecomms, networking & computing...
IC combines USB PD, PPS, and GaN to maximize efficiency and slash component count in adapters and chargers ...
Software Configurable Settings Replace Hardware Changes such as Gate Resistors due to Microchip's AgileSwitch Technology...
On September 17 Infineon Technologies officially opened its high-tech chip factory for power semicondutors on 300-mm wafers...
New gate driver eliminates one in six modules; substantially reduces system complexity ...
UnitedSiC has responded to the power designer's requests for higher-performance, higher-efficient SiC FETs with 750 V 6 mOhm...
Technology benefits include circuit consistency of /- 5um thanks to the highly mechanized production process...
The MCF8316A and MCT8316A BLDC motor drivers provide real-time control capabilities to optimise acoustic performance...