Features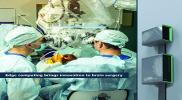 Edge Computing Leverages Modular Power in Scalable Micro Data Centres - May 2022
Edge computing is essential to realizing the full potential of artificial intelligence (AI), machine learning and internet of things (IoT). These technologies are being infused into every corner of...
More details...
Power Electronics Europe News
With a footprint of 101.6 x 50.8mm and a height of 40.89mm, the VCCS300S is a 300W single output power supply from Vox Power...
The design of WolfPACK power modules maximise power density and the standard form factor simplifies design, says Cree...
The MAX20361 is a solar harvester with maximum power point tracking (MPPT) which halves space required for end products...
The P9418 integrated wireless power receiver IC delivers faster wireless charging and highest power density, claims Renesas...
The company says the battery monitor-balancer improves performance in wired and wireless battery management systems...
A power control reference design is claimed to simplify AC/DC design and the interface with smart home automation devices....
The ACS37800 Hall-effect IC integrates power, voltage and current monitoring and reinforced isolation....
A family of two-wire unipolar and latch switch ICs from Diodes have self-diagnostics for automotive proximity and sensing...
The RPMH series of non-isolated switching regulators has an extended rating of 1.5A with no increase in size...
EPC2055 eGaN FETs are smaller, more efficient and more reliable than alternatives, says from Efficient Power Conversion (EPC)...