Features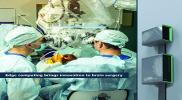 Edge Computing Leverages Modular Power in Scalable Micro Data Centres - May 2022
Edge computing is essential to realizing the full potential of artificial intelligence (AI), machine learning and internet of things (IoT). These technologies are being infused into every corner of...
More details...
Power Electronics Europe News
DALI LED power supplies, LED drivers and controllers from Stadium Power, offer the ability to tailor lighting systems....
At PCIM Europe, PEM will launch its next-generation CWT current probes for high-speed and high power-density applications. ...
Standard three-level, press-pack IGBT phase leg stacks from Ixys have power rating up to 16MW....
Synchronous, step down, switching regulators , the XR76108, XR76112 and XR76115 have been added to Exar's PowerBlox range....
A PFC controller from Fairchild allows designers to use small passive components in high power applications....
Board developers can design PoL and achieve the highest FPGA performance at the lowest system power, says Altera....
This year's Drives & Controls Show set attendance records, with nearly 13,000 visitors over the three days....
The LpS 2014 will be held in Bregenz, Austria from 30 September to 2 October 2014....
Development boards from Efficient Power Conversion (EPC) have half-bridge topology and onboard gate drives....
The LTC3355 has all the functions needed to provide seamless charging of a supercapacitor (or other storage element)....