Features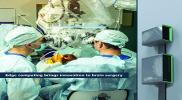 Edge Computing Leverages Modular Power in Scalable Micro Data Centres - May 2022
Edge computing is essential to realizing the full potential of artificial intelligence (AI), machine learning and internet of things (IoT). These technologies are being infused into every corner of...
More details...
Power Electronics Europe News
Two automotive n-channel MOSFETs are claimed to provide class-leading low on-resistance for load switching....
Primary‑side power switchers from Diodes enable designers to meet Energy Star Level 6 and EU CoC Tier 2 requirements. ...
Microcontroller supplier, Renesas Electronics has announced it will acquire power management and analogue company, Intersil...
Three encapsulated DC/DC converters from CUI, the PDQ10‑D (10W), PDQ15‑D (15W) and PDQ30‑D (30W) are in an industry package....
The mergers & acquistions continue on large scale...
The first industrial class DC/DC converter modules in the ICQ series has been announced by Murata Power Solutions....
16bit, low power microcontrollers have superior processing capability and low power consumption, claims Lapis Semiconductor....
The A5989 40V motor driver IC combines a bipolar stepper and high current DC motor driver IC....
Two AC/DC converters from Recom are offered by Dengrove Electronic Components for smart buildings and IoT applications....
A report finds that solar power is maturing, with robust growth for integrators and installers, but a setback for Europe....