Features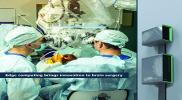 Edge Computing Leverages Modular Power in Scalable Micro Data Centres - May 2022
Edge computing is essential to realizing the full potential of artificial intelligence (AI), machine learning and internet of things (IoT). These technologies are being infused into every corner of...
More details...
Power Electronics Europe News
Infineon Technologies announces the latest generation TrenchStop IGBT6 technology, with a 650V blocking voltage....
The CSS series of high power current sense resistors from Bourns is now available in Europe through distributor TTI....
Delta-sigma ADCs for system monitoring applications from Texas Instruments are now available from Mouser Electronics....
Diodes' AP72200 is a high-current synchronous buck/boost DC/DC converter with high-side and low-side H-Bridge MOSFETs. ...
Adding to the VDRM MagI³C power modules, Würth Elektronik eiSos now offers two power modules in a TO263-7EP package....
Two high current photo relays from Toshiba Electronics Europe are fabricated using the latest U-MOS IX semiconductor process....
Direct mounting on a heat sink means that the Vishay Sfernice LTO 150 thick film power resistor reduces component count....
Up to five high efficiency, low quiescent current output are integrated in a single IC, the LTC3372, by Analog Devices....
The MCP39F511A measures both AC and DC modes and saves material cost and development time, claims Microchip. ...
Specialist distributor, Dengrove Electronic Components, offers Recom's evaluation board for the R-78S boost converter....