Features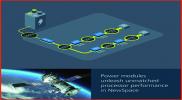 NewSpace demands low voltage, high current power for performance and longevity - Nov 2022
Matt Renola, Senior Director, Global Business Development – Aerospace & Defense
More details...
Power Electronics Europe News
Infineon adds CoolSiC Easy 2B power modules to its CoolSiC MOSFET power module range for UPS and energy storage applications...
Alpha and Omega Semionductor says its high-current EZBuck regulator family supports next-gen SoCs...
The EPC2206 and EPC2212 eGaN FETs meet the growing need for lidar, radar, camera and ultrasonic sensor systems in vehicles....
Cooling solutions and advice can be found at the Rogers Corporation, Power Electronics Solutions stand ...
Offering a wide input range, the REC15E-Z 15W isolated DC/DC converters is available from Recom in a 25 x 25mm footprint....
Wearable and IoT devices can enjoy extended battery runtimes using the power management IC from Maxim Integrated Products....
Torex Semiconductor has launched the XDL601/XDL602 DC/DC converters. They AEC-Q100 compliant for automotive use....
DC/DC converters from Recom are certified to the emerging IEC 62368-1 safety standard. ...
The first in a series of bidirectional TVS diode arrays (SPA diodes) has been announced by Littelfuse....
Osram and GaN Systems introduce a laser driver with high-power, multi-channel for Lidar use in vehicle safety systems....