Features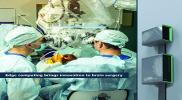 Edge Computing Leverages Modular Power in Scalable Micro Data Centres - May 2022
Edge computing is essential to realizing the full potential of artificial intelligence (AI), machine learning and internet of things (IoT). These technologies are being infused into every corner of...
More details...
Power Electronics Europe News
Fairchild Semiconductor has begun its 2013 seminar programme, beginning in Europe, and moving to the Americas and Asia in early 2014. ...

The 28th EU PEV conference and exhibition opens in Paris Monday 30 September for the photovoltaic industry....

A P-channel enhancement-mode power MOSFET can be used in high high-switching applications such as load switches....

Silicon Carbide can become an alternative to Silicon according to recent research...


1
2
3
4
5
6
7
8
9
10
11
12
13
14
15
16
17
18
19
20
21
22
23
24
25
26
27
28
29
30
31
32
33
34
35
36
37
38
39
40
41
42
43
44
45
46
47
48
49
50
51
52
53
54
55
56
57
58
59
60
61
62
63
64
65
66
67
68
69
70
71
72
73
74
75
76
77
78
79
80
81
82
83
84
85
86
87
88
89
90
91
92
93
94
95
96
97
98
99
100
101
102
103
104
105
106
107
108
109
110
111
112
113
114
115
116
117