Features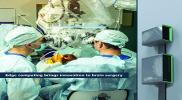 Edge Computing Leverages Modular Power in Scalable Micro Data Centres - May 2022
Edge computing is essential to realizing the full potential of artificial intelligence (AI), machine learning and internet of things (IoT). These technologies are being infused into every corner of...
More details...
Power Electronics Europe News
SiC Chips for Sintering...
For the first time, Trends in Lighting (TiL) will run in parallel to the seventh annual LED professional Symposium Expo...
Single output PQC power supplies from Murata Power Solutions, offer up to 95% power efficiency....
Zettler Electronics offers the mini AZ SR131 power relay, capable of switching up to 35A at 277V AC....
The ADF5356 is a 13.6GHz wideband synthesizer from Analog Devices that is integrated for reduced system size....
MIL-COTS DC/DC converters and MIL-STD input filter from Vicor meet advanced SWaP-C requirements....
The PLEDxN series of open LED protectors from Littelfuse are designed for use with high-brightness 1W LEDs....
Alpha and Omega Semiconductor announces a 5A EZBuck DC/DC synchronous, buck regulator with Ultra Pulse Energy Mode (U-PEM)....
High-voltage GaN multilevel power converter embedded in PCB...
Claimed to be the first DC/DC converter capable of DC fan motor speed control, Rohm Semiconductor has introduced the BD9227F....