Features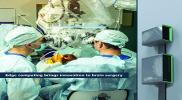 Edge Computing Leverages Modular Power in Scalable Micro Data Centres - May 2022
Edge computing is essential to realizing the full potential of artificial intelligence (AI), machine learning and internet of things (IoT). These technologies are being infused into every corner of...
More details...
Power Electronics Europe News
Silicon carbide FETs from UnitedSiC increase switching speeds and raise efficiency levels compared to the earlier series....
The PWD5F60 high density power driver address high-voltage brushed DC and single-phase brushless motor applications. ...
Encapsulated AC/DC power supply modules from Recom are now available from Dengrove Electronic Components....
Efficiency increases in the MAXM22511 isolated RS-485 module transceiver is offered by Maxim Integrated in a compact package....
Texas Instruments claims the ISO1042 and ISO1042-Q1 have high bus fault protection and the lowest electromagnetic emissions....
Medical-grade DC/DC converters from Recom, ranging from 15 to 30W, are compact for integration in medical designs....
An AC/DC converter enables unprecedented power density and thermal management flexibility, claims Vicor. ...
ADCs from Analog Devices are claimed to simplify development of PLC and distributed control system modules ...
Microchip claims a linear LDO regulator can extend battery life by up to four times, compared to traditional low Iq LDOs...
The WMRAG series will shrink the size and power consumption of IoT devices and wearable devices, claims Murata....