Features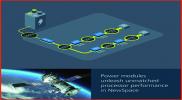 NewSpace demands low voltage, high current power for performance and longevity - Nov 2022
Matt Renola, Senior Director, Global Business Development – Aerospace & Defense
More details...
Power Electronics Europe News
The ISL91127 and ISL91128 from Intersil boast the industry's lowest quiescent current for battery-operated devices....
Two regulated DC/DC converters from XP Power, the JWL and JSK series, have efficiency typically up to 92%....
Linear Technology announces the LTC3256, integrated, high voltage low noise dual output power supply....
Two DC/DC step-down converters by Diodes can drive loads up to 1A with no external compensation to minimize component count....
An automotive-qualified PMIC from Allegro MicroSystems Europe can implement either a buck or buck/boost regulator...
Analog Devices introduces the AD9164 DAC, and claims its high resolution radar images improve accuracy and speed of test....
A family of power modules from Alpha and Omega Semiconductor comply with Intel's DrMOS specifications. ...
Analog Devices and Linear Technology...
Equipped with an intergrated translator, the A5985 DMOS microstepping driver uses a proprietary control method....
Two digital output isolation amplifiers for current and voltage sensing in power converters have been announced by Toshiba....