Features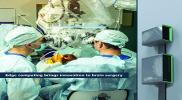 Edge Computing Leverages Modular Power in Scalable Micro Data Centres - May 2022
Edge computing is essential to realizing the full potential of artificial intelligence (AI), machine learning and internet of things (IoT). These technologies are being infused into every corner of...
More details...
Power Electronics Europe News
GaN IC company, Navitas Semiconductor, has signed a worldwide distribution agreement with Digi-Key for 24-hour availability...
Rohm Semiconductor has combined Qi standard wireless charging with NFC communication for automotive applications...
Completing the PH-A280 series of 50 to 300W power modules, TDK-Lambda adds the PH300A280-5 DC/DC converter....
The ME300RU series of miniature DC/DC converters from MicroPower Direct is made up of 21 standard models...
Infineon adds CoolSiC Easy 2B power modules to its CoolSiC MOSFET power module range for UPS and energy storage applications...
Alpha and Omega Semionductor says its high-current EZBuck regulator family supports next-gen SoCs...
The EPC2206 and EPC2212 eGaN FETs meet the growing need for lidar, radar, camera and ultrasonic sensor systems in vehicles....
Cooling solutions and advice can be found at the Rogers Corporation, Power Electronics Solutions stand ...
Offering a wide input range, the REC15E-Z 15W isolated DC/DC converters is available from Recom in a 25 x 25mm footprint....
Wearable and IoT devices can enjoy extended battery runtimes using the power management IC from Maxim Integrated Products....