Features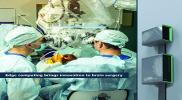 Edge Computing Leverages Modular Power in Scalable Micro Data Centres - May 2022
Edge computing is essential to realizing the full potential of artificial intelligence (AI), machine learning and internet of things (IoT). These technologies are being infused into every corner of...
More details...
Power Electronics Europe News
Claimed to be the smallest devices in their fields, they enable smaller form factors in personal electronics, enterprise, industrial and communications...
Maxim Integrates says its MAX40056 offer the industryís highest accuracy and fastest settling time....
An efficient, single-channel H-bridge driver incorporates a low on-resistance (0.6W) MOSFET delivering 50V/3.5A (max.)...
The PSAF10R-050QA-R 10W USB interchangeable plug adapter complies with DOE VI efficiency standards....
The MAAP-011250 extends the satcom gain block amplifiers, drivers, mixers and power amplifiers by Macom Technology ...
The PolySwitch setP series now includes the SETP0805-100-CC to protect USB Type‑C and USB PD charging cables....
Gallium nitride (GaN) -based power devices will be available in wafer form for ease of power systems integration...
Dengrove Electronic Components now offers Recomís R-REF03-CAN1 reference board to streamline isolated CAN interface design....
A universal AC input power supply inside the case of a standard IEC mains filter creates an all-in-one AC/DC power supply...
WFM Power Metal Plate resistors combine high power and a wide resistance range to improve accuracy without parallel elements...