Features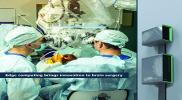 Edge Computing Leverages Modular Power in Scalable Micro Data Centres - May 2022
Edge computing is essential to realizing the full potential of artificial intelligence (AI), machine learning and internet of things (IoT). These technologies are being infused into every corner of...
More details...
Power Electronics Europe News
Claimed to be a world first, the A1569 LED driver IC has an integrated Hall-effect switch, says Allegro Microsystems Europe....
A Windows-based software tool can be used for configuration and testing of gate drives for converter power stack developments...
Power Integrations offers solid-state lighting driver for non-isolated lamp designs and isolated ballast topologies....
Powering 48-V automotive applications...
Power Integrations announces its InnoSwitch-CP family of off-line CV/CC flyback switching ICs. ...
The conference programme has been published for this year's show, covering varied topics and with market-focused keynotes....
Miniature, PoL switching regulators from MicroPower Direct provide up to 0.5A of output current. ...
Abstracts on lighting trends and innovations are invited from experts from science and industry. Deadline is Fri 19 February....
The LT3089 has an extended safe operating area (SOA) compared to existing regulators to alleviate output limits....
Configuration via a digital interface allows the PMBus SupIRBuck voltage regulator to reduce design and test time....