Features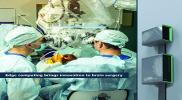 Edge Computing Leverages Modular Power in Scalable Micro Data Centres - May 2022
Edge computing is essential to realizing the full potential of artificial intelligence (AI), machine learning and internet of things (IoT). These technologies are being infused into every corner of...
More details...
Power Electronics Europe News
Power capacitors have been added to the EPCOS range for industrial electronics, available from TDK Corporation....
The report 'Low Power Wireless Networks 2017-2027' analyses the wireless networking ecosystem for emerging low power networks...
The highest surge density of any Littelfuse TVS diode array is provided with the high surge tolerance SP11xx series....
AEC Q101-qualified photocouplers address isolation and interface requirements in electric vehicles (EVs) and hybrid EVs...
Dengrove Electronic Components now offers Recom's class-A compliant REC3A, REC5A and REC6A isolated DC/DC converters....
Believed to be the first DC/DC converter in its class to provide 2MOPP (means of patient protection), Recom offers the REM1....
Based on Silent Switcher architecture, the LT8609S is a 2.0A, 42V input switching regulator from Analog Devices....
Vicor adds the PI3526-00-LGIZ to its Cool-Power ZVS portfolio. It has a 48V input and requires minimal passive components....
Toshiba Electronics Europe launches a system regulator IC, the TCB010FNG, designed to handle sophisticated car audio system...
Silego Technology adds the SLG46580 to the GreenPak offering to support power systems in wearable and handheld devices....