Features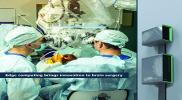 Edge Computing Leverages Modular Power in Scalable Micro Data Centres - May 2022
Edge computing is essential to realizing the full potential of artificial intelligence (AI), machine learning and internet of things (IoT). These technologies are being infused into every corner of...
More details...
Power Electronics Europe News
Higher EV battery voltages require higher breakdown voltages for switcher ICs such as 1700 SiC MOSFETs...
The MAX77540 step-down buck converter by Analog Devices reduces space in multi-cell battery applications....
Standard non-hybrid, space-grade power converters from Microchip include the SA50-28 28V input, 50W radiation-tolerant model....
Designed for high power in tight spaces, the DGS0579U high side and low side gate driver has been released by Diodes...
Rohm Semiconductor's modules can be used in slim, compact devices like smart tags or cards and PC peripherals...
To reduce time to market for radiation-hardened GaN power devices, EPC Space has developed two demonstration boards...
Dedicated 8-inch GaN-on-Si FET producer opens locations in the USA and Europe offering lowest prices and wide availability...
New laboratory will provide faster and more detailed support to a growing European customer base...
GaN Systems introduces the GeN2 amplifier and SMPS reference design for smaller, high performance Class-D audio...
BMW demonstrates its 2022 BMW iX all-electric sports at CES 2022 in Las Vegas, using the company's software for ECUs....