Features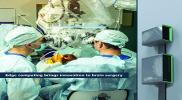 Edge Computing Leverages Modular Power in Scalable Micro Data Centres - May 2022
Edge computing is essential to realizing the full potential of artificial intelligence (AI), machine learning and internet of things (IoT). These technologies are being infused into every corner of...
More details...
Power Electronics Europe News
Kemet announces high voltage ALC10 snap-in aluminium electrolytic capacitors for high ripple current applications....
Plessey presented its LED technology at the fifth CS International, a two-day conference....
Transphorm announces engineering samples of its TPH3205WS, claimed to be the first 600V GaN transistor in a TO-247 package....
Integrated and configurable power-management ICs (PMICs) from Micrel feature six independent DC/DC regulators. ...
Infineon Technologies expands GaN technology and product portfolion with enhancement mode and cascode configuration devices....
For designers using DC/DC converters, Recomís guide, entitled DC/DC Book of Knowledge is a handy guide....
Complete Buck Converter for Data/Telecom...
Infineon strengthen its position in power gallium nitride...
First entry of Texas Instruments with GaN solutions will accelerate market adoption...
Designed for high reliability, high temperature applications, the CMT-Antares is Cissoid's latest regulator....