Features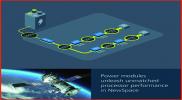 NewSpace demands low voltage, high current power for performance and longevity - Nov 2022
Matt Renola, Senior Director, Global Business Development – Aerospace & Defense
More details...
Power Electronics Europe News
A quad-channel protector and two multiplexers from Analog Devices offer over-voltage protection....
At Intersolar Europe, imec announced a thin-film perovskite PV module of a power conversion efficiency of 8%....
Infineon has added the OptiMOS 300V, claiming to set a new standard in the power MOSFET market....
A PMIC from Dialog Semiconductor is claimed to halve comparable notebook power design and deliver 98% efficiency....
The TW9992 analogue video decoder from Intersil has an integrated MIPI-CSI2 output interface....
To increase the power density of DC/DC converters, a complementary MOSFET pair integrates N-and P-channel MOSFETs....
Linear Technology announces the LTC2348-18, 18bit, eight-channel simultaneous sampling SAR ADC....
Claimed to be the industry's smallest 20A power module, XR79120, has been released by Exar....
Research projects 3Ccar, OSEM-EV and Silver Stream will focus on bringing c environmentally-friendly vehicles to market....
Analysts from IHS notes the show's growth in size and the reaction of silicon vendors to the emergence of SiC and GaN....