Features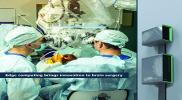 Edge Computing Leverages Modular Power in Scalable Micro Data Centres - May 2022
Edge computing is essential to realizing the full potential of artificial intelligence (AI), machine learning and internet of things (IoT). These technologies are being infused into every corner of...
More details...
Power Electronics Europe News
Two dual N-channel enhancement mode MOSFETs provide a compact, bi-directional low-loss switch for battery-charging circuits. ...
Dengrove offers Recom power supplies that meet two MOPP (means of patient protection) 8mm creepage and clearance performance....
A quad-channel protector and two multiplexers from Analog Devices offer over-voltage protection....
At Intersolar Europe, imec announced a thin-film perovskite PV module of a power conversion efficiency of 8%....
Infineon has added the OptiMOS 300V, claiming to set a new standard in the power MOSFET market....
A PMIC from Dialog Semiconductor is claimed to halve comparable notebook power design and deliver 98% efficiency....
The TW9992 analogue video decoder from Intersil has an integrated MIPI-CSI2 output interface....
To increase the power density of DC/DC converters, a complementary MOSFET pair integrates N-and P-channel MOSFETs....
Linear Technology announces the LTC2348-18, 18bit, eight-channel simultaneous sampling SAR ADC....
Claimed to be the industry's smallest 20A power module, XR79120, has been released by Exar....