Features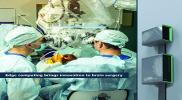 Edge Computing Leverages Modular Power in Scalable Micro Data Centres - May 2022
Edge computing is essential to realizing the full potential of artificial intelligence (AI), machine learning and internet of things (IoT). These technologies are being infused into every corner of...
More details...
Power Electronics Europe News
The MAX17852 battery monitor IC reduces space and cost for automotive battery management systems, says Maxim Integrated...
The TCKE712BNL is a resettable eFuse IC from Toshiba Electronics Europe, with adjustable over-voltage protection...
Revenue for the three-month period increased from €2,490 million to €2,631 million quarter-on-quarter, with all segments contributing to the 6 percent growth despite the weaker US dollar. ...
Alpha and Omega Semiconductor introduces a Type-C Power Delivery (PD) high voltage source switch ...
New Management staff at Powerex USA...
The CPC1561B is a 1A fault-protected solid state relay with integrated current limiting and thermal shutdown...
MLCCs from Vishay Intertechnology have lead (Pb) bearing termination finishes for a cost-efficiency in high-rel applications...
Two DC/DC converters from Murata Power Solutions are suitable for embedded applications in rail and industrial applications...
The LT8491 from Analog Devices operates from input voltages above, below or equal to the regulated battery float voltage....
The 2ED24427N01F EiceDRIVER has low thermal resistance yet operates at high switching frequencies and output currents...