Features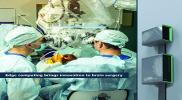 Edge Computing Leverages Modular Power in Scalable Micro Data Centres - May 2022
Edge computing is essential to realizing the full potential of artificial intelligence (AI), machine learning and internet of things (IoT). These technologies are being infused into every corner of...
More details...
Power Electronics Europe News
InnoSwitch3-TN off-line, CV/CC flyback switcher ICs are offered in a safety-qualified, compact MinSOP-16A package...
Microchip and Mersen Collaborate on Silicon Carbide Power Systems for industrial applications ...
The 24-bit ADS127L11 maximises channel density and battery life for data acquisition, says the company...
The high temperature inductor delivers low DCR and high current filtering is in a 2525 case for multi-phase power supplies...
The latest addition to Recom's DC/DC converter portfolio, is the RSH2, which features 2W output and a surface mount format...
Medical, industrial, audio broadcast and LED lighting applications can benefit from the NGB series, says SL Power....
A Bluetooth LE microcontroller, the RSL15 wireless microcontroller provides the lowest power consumption says onsemi...
Knowles Precision Devices has introduced the Hiteca multi-layer ceramic capacitors which offer high stability and low loss...
LDO regulators in the XC6241 series have a 'green' operation function, says Torex Semiconductor...
Shield Gate technology is used in the latest 80V power MOSFET from Alpha and Omega Semiconductor (AOS)...