Features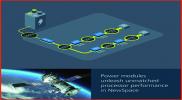 NewSpace demands low voltage, high current power for performance and longevity - Nov 2022
Matt Renola, Senior Director, Global Business Development – Aerospace & Defense
More details...
Power Electronics Europe News
Power Integrations HiperPFS-5 ICs enable compact, efficient power-factor stage ...
The MAX30009 is a low power bioimpedance analogue front end (AFE) available from Analog Devices....
The two, 540W rated AC/DC power modules use the PMBus interface for programming or remote monitoring....
Vishay Intertechnology says the IHLE-2020CD-51 and IHLE-2020CD-5A are the smallest high current inductors available today....
Alpha and Omega Semiconductor increases the power rating with its latest half-bridge power stage for coil drivers....
The TSON packaged device, it is the smallest capacitive coupled 1b type MOSFET relay, says Panasonic Industry Europe...
Bourns adds three semi-shielded power inductors with high operating temperature and which are automotive qualified....
The company has combined thin wafer technology and a new package form factor for its discrete power MOSFETs...
Murata says that its NFM15HC435D0E3 multi-layer ceramic capacitor (MLCC) provides 4.3μF capacitance in a 0402 case....
Toshiba has designed the DF2B6M4BSL TVS diode for the ESD protection of antennas and high-speed signal lines....