Features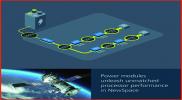 NewSpace demands low voltage, high current power for performance and longevity - Nov 2022
Matt Renola, Senior Director, Global Business Development – Aerospace & Defense
More details...
Power Electronics Europe News
An evaluation board from EPC demonstrates how eGaN FETs can drive laser diodes to enhance LiDAR in autonomous vehicles....
Suitable for low power applications, the LinkSwitch-XT2 offline converter ICs have been announced by Power Integrations....
Two N-channel MOSFETs for load switches deliver low on-resistance for battery-operated portable applications....
Linear Technology announces the LTC3897 multi-phase synchronous boost DC/DC controller with input surge stopper....
Dengrove Electronic Components extends its portfolio of EN50155-compliant DC/DC converters, introducing the Recom RPA120H-RW....
Encapsulated power supply modules with high efficiency and a low no load input power have been announced by XP Power....
To increase convenience and reduce waste, the IEC has announced a smart charging solution that allows chargers to be re-used....
Zener diodes, optimized by Rohm, offer protection and constant current in a variety of electrical circuits....
Enhanced radiation hardened MOSFETs for mission-critical applications have been released by IR HiRel....
Switching regulators from Recom, the R420-1.8/PL series, are specifically for microprocessors from 4.0 to 20mA lo loop....