Features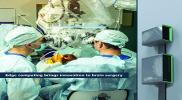 Edge Computing Leverages Modular Power in Scalable Micro Data Centres - May 2022
Edge computing is essential to realizing the full potential of artificial intelligence (AI), machine learning and internet of things (IoT). These technologies are being infused into every corner of...
More details...
Power Electronics Europe News
Non-isolated mono block converters are available from Murata in two models, a 6A and a 20A version....
With a maximum output withstand of 40V and output of 2.0A, the TC78S122FTG is a bipolar stepping motor driver IC from Toshiba...
Thee TS985 comparator is small enough for use in space-constrained applications, says STMicroelectronics....
The LTC3126 is a 2.5A, 42V synchronous step-down switching regulator with an integrated dual input PowerPath control....
Digital and configurable LED driver ICs have a two-stage architecture, claimed to ease the implending flicker standards....
Distributor, Dengrove Electronic Components has introduced the latest DC/DC converters from Recom....
Setting an industry standard for thermals and efficiency, two FETs are announced by Alpha & Omega Semiconductor....
Designed for space constrained applications, the MDW106 series of 6W isolated/regulated DC/DC converters are from MinMax....
Configurable, digitally controlled AC/DC power supplies by XP Power, the nanofleX is in a low profile chassis....
An ISO 11898-2 compliant controller area network CAN µModule guards against interruptions in 3.3 or 5V applications....