Features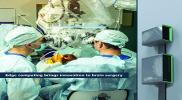 Edge Computing Leverages Modular Power in Scalable Micro Data Centres - May 2022
Edge computing is essential to realizing the full potential of artificial intelligence (AI), machine learning and internet of things (IoT). These technologies are being infused into every corner of...
More details...
Power Electronics Europe News
Able to operate at temperatures as low as -40°C, the Recom AC/DC power supplies are available from Dengrove....
Energy harvesting PMICs from Cypress enable tiny, solar-powered wireless sensors for IoT applications. ...
Cree Power & RF IPO under Wolfspeed...
The HTB28 is claimed to be the industry's first hermetic hybrid DC/DC converter rated at 185ºC in a one inch wide package....
The organiser of the LED professional Symposium Expo 2015 (LpS 2015), announces 60 technical presentations; seven workshops...
Offered in a 3 x 3mm QFN package, the MIC24046-H is a pin-configurable 5A synchronous buck converter from Micrel....
Linear Technology announces the LTM4676A, a current shareable μModule step-down DC/DC regulator with PMBus serial interface....
Two radiation-hardened multiplexers are claimed to offer the industry's best-in-class ESD protection....
Research centre announces 11.3% aperture and 11.9% active area efficiency for thin-film perovskite photovoltaic (PV) module....
Two plug-in modules from Excelsys Technologies protect industrial and medical systems with inductive and capacitive loads....