Features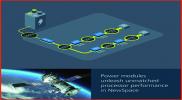 NewSpace demands low voltage, high current power for performance and longevity - Nov 2022
Matt Renola, Senior Director, Global Business Development – Aerospace & Defense
More details...
Power Electronics Europe News
Alpha and Omega Semiconductor introduces I2C controllable EZBuck regulators to power next-gen chipsets and FPGAs....
Analog Devices announced the LTM4653 step-down regulator with low EMI, designed for use in varied environments. ...
Claimed to be 20 times smaller than comparable silicon, the EPC2050 is available from Efficient Power Conversion (EPC)....
Proton-Electrotex introduces low inductance MIDA half-bridge IGBT modules with improved thermal and power cycling....
Diodes from Infineon Technologies, the Prime Soft family are designed for modern IGBT applications, says the company....
Supercapacitors from CAP-XX are believed to be the first to deliver peak power to support or replace batteries....
Toshiba Electronics Europe adds the TB67H420FTG for higher voltage applications such as robotic vacuum cleaners....
Analog Devices has announced the Power by Linear LTM4661 low power, step-up µModule regulator....
Four companies form the Power Stamp Alliance to enable a multi-vendor supply chain for open compute projects and data centres...
Designed for harsh environments, Recom's RPA100H and RPA200H are available from Dengrove Electronic Components....