Features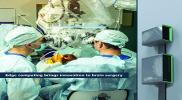 Edge Computing Leverages Modular Power in Scalable Micro Data Centres - May 2022
Edge computing is essential to realizing the full potential of artificial intelligence (AI), machine learning and internet of things (IoT). These technologies are being infused into every corner of...
More details...
Power Electronics Europe News
X-Fab has released what it claims is the industry's lowest power non-volatile memory (NVM), based on its 18nm technology....
Powercast unveils an FCC-approved consumer transmitter for power-over-distance wireless charging at CES 2018. ...
Allegro MicroSystems announces a three-phase MOSFET driver IC for a range of industrial applications. ...
Believed to be the industry's first dual-node battery charge ICs, the BD99954GW/MUV supports up to four battery cells. ...
A 40V gallium nitride power transistor is eight times smaller than equivalently-rated MOSFETs, says EPC....
The Recom RAC05-K 5W AC/DC converters are available from Dengrove Electronic Components....
The XC6192 series of pushbutton load switch ICs by Torex Semiconductor are designed for devices with small‐capacity batteries...
Recom announces the RACM18-ER and RACM30-ER AC/DC converters for medical PCBs which need certification and energy efficiency....
The AL1788 is an offline constant voltage and PFC controller from Diodes, designed for connected LED lighting....
The BMR480 DC/DC bus converter module is based on Flex Power Modules' Hybrid Regulated Ration (HRR) topology....