Features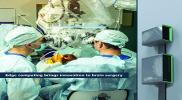 Edge Computing Leverages Modular Power in Scalable Micro Data Centres - May 2022
Edge computing is essential to realizing the full potential of artificial intelligence (AI), machine learning and internet of things (IoT). These technologies are being infused into every corner of...
More details...
Power Electronics Europe News
The Frauhofer Institute, SUMIDA Components and Leibherr are collaborating in a GaN-resonant project....
A current-mode dual output synchronous step-down DC/DC controller from Linear Technology caters for very high currents....
The global market for merchant power supplies is forecast to grow by 2.4% this year, driven by tablets, lighting and servers....
Micross Components is to supply Fairchild Semiconductor boards, speciality components and custom packaging. ...
The iPower Technical Conference and networking dinner will take place 27 - 28 November 2013....
According to IHS, the solar industry has a bright outlook with growing demand in developing regions boosting capital spend....
The third International Electric Drives Production Conference (EIDPC) will be held in Nuremberg, 28 0 30 October 2013....
MOSFETs for DC/DC synchronous buck applications use International Rectifier's latest-generation silicon in a PQFN package. ...
Delivering up to 50mA output, the LTC3255 high voltage, step-down, switched capacitor converter from Linear Technology....
The SOL3W solar charger can be charged either by sunlight or USB charger. ...