Features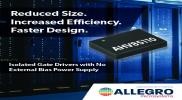 Solving the Challenges of Increasing Power Density By Reducing Number of Power Rails - March 2023
By Andy Wang, Business Line Director, High-Voltage Power Business Unit Allegro MicroSystems
More details...
AC/DC power factor correction module offers up to 1,512W
A full brick package developed by TDK-Lambda, the PF1500B-360, is for high voltage distributed power architectures
More details...
Power Electronics Europe News
Big Deal in Power Semiconductor Industry...
A fast switching N-channel, enhancement-mode power MOSFET is cost-effective for low voltage applications....
AVX has released the FM Series medium power film capacitors, with dry, metallized polypropylene film dielectric....
The A6861 from Allegro MicroSystems Europe is a three-phase, N-channel power MOSFET driver IC....
MLS Flatpack aluminum electrolytic capacitors from Cornell Dubilier Electronics (CDE) now include two new options....
Six AEC-Q100-qualified gate drivers with propagation delays of less than 15ns have been announced by Texas Instruments....
Intersil has introduced the ISL8240M, a dual 20A/single 40A step-down power module that delivers up to 100W of output power....
Vishay Intertechnology has introduced a series of AEC-Q200-qualified, AC-line-rated ceramic disc safety capacitors. ...
Four NTC chip thermistors for high-accuracy temperature measurement have been released by Ametherm....
The iJB series of 60A non-isolated SMT DC/DC converters are compact PoL modules from TDK-Lambda....