Features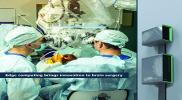 Edge Computing Leverages Modular Power in Scalable Micro Data Centres - May 2022
Edge computing is essential to realizing the full potential of artificial intelligence (AI), machine learning and internet of things (IoT). These technologies are being infused into every corner of...
More details...
Power Electronics Europe News
The AOTL66518 and AOB66518L MOSFETs, released by Alpha and Omega Semiconductor have low on-resistance....
Microchip is offering engineering silicon of the radiation-toleration (RT) PolarFire FPGA to create hardware prototypes. ...
Two EiceDRIVER X3 Enhanced families increase design flexibility and reduce hardware complexity...
Omron Electronics Components Europe unveils the G2RG-X 500VDC relay aimed at pre-charge circuits in high current DC applicati...
The ISL73141SEH is a single-chip 14-bit, 1MSPS, successive approximation register (SAR) ADC for rad-hard applications....
Four devices based on UnitedSiCís Gen 4 SiC FET technology enable new performance levels, says the company....
Power rail stabilisation in tight spaces is enhanced with low noise LDO voltage regulators says Toshiba Electronics Europe...
SVR and VR non-isolated DC/DC switching regulators by XP Power replace low efficiency linear regulators. ...
Vox Power has produced a tiny 300W single output power supply, qualified for medical systems....
A fast switching 600V αMOS5 super junction MOSFET from Alpha and Omega Semiconductor (AOD) is in a TO-leadless (TOLL) package...