Features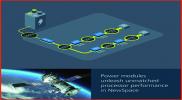 NewSpace demands low voltage, high current power for performance and longevity - Nov 2022
Matt Renola, Senior Director, Global Business Development – Aerospace & Defense
More details...
Power Electronics Europe News
Three devices have been added to the GFET3 Integrated Power Switch (IPS) portfolio by Siliego Technology....
The AOZ5038QI integrates a dual gate driver and two optimized MOSFETs in a 31-pin 5.0 x 5.0mm QFN package....
N-channel MOSFETs from Toshiba Electronics Europe have been added to the U-MO IX-H series.https://toshiba.semicon-storage.com...
A 32-channel driver from Intersil has an integrated decoder that reduces the size of satellite command and telemetry systems....
Single, dual and quad operational amplifiers from Linear Technology extend its line of low noise, precision op amps...
Navitas Semiconductor announces what it believes is the industry's first integrated half-bridge GaN power IC....
The 7th annual LED professional Symposium Expo take places 26 to 28 September, co-located with Trends in Lighting this year...
Switching regulators from Exar are designed for infotainment head units and ADAS (advanced driver assistance systems)....
Integrating digital and analogue circuitry increases performance and reduces system cost, says Navitas Semiconductor....
The conference programme for this year's PCIM (16 to 18 May) in Nuremberg has been confirmed....