Features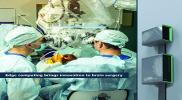 Edge Computing Leverages Modular Power in Scalable Micro Data Centres - May 2022
Edge computing is essential to realizing the full potential of artificial intelligence (AI), machine learning and internet of things (IoT). These technologies are being infused into every corner of...
More details...
Power Electronics Europe News
Smart power stage devices by Alpha and Omega Semiconductor target multi-phase voltage regulators for AI, graphics and storage...
Compact 6kV DC devices are for scanning, imaging and diagnostics equipment for analytical and detector applications...
Additions to Nexperia's PMEGxxxTx family are rated at up to 100V and 20A for low switching losses and increased SOA...
New Motor-Expert IEC6730 Class A-ready software tackles new Energy efficiency regulations for appliances...
InnoSwitch3-AQ ICs are up to 90% efficient with low 15 mW no-load power consumption and increased voltage margin for 400 V and 800 V batteries...
SCALE-2 driver support 130 mm x 140 mm IGBT high-power modules from all major manufacturers...
Believed to be the first to protect PV roof shingles from reverse over-current, the 400PV Fuse series protects from heat...
The low-Ohmic 10W GMR320 and the 15W PSR shunt resistors are designed for high power applications...
At this year's event, EPC launches the EPC9146 GaN-powered motor drive demo board for three-phase motor drives...
Inductors released by Murata have broadband impedance for in-vehicle power over coax (PoC) systems in vehicles...