Features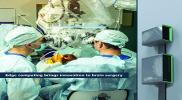 Edge Computing Leverages Modular Power in Scalable Micro Data Centres - May 2022
Edge computing is essential to realizing the full potential of artificial intelligence (AI), machine learning and internet of things (IoT). These technologies are being infused into every corner of...
More details...
Power Electronics Europe News
Vishay Intertechnology has introduced high saturation IHSR inductors are offered in a 1616 case with a 1.2mm profile....
Two reference designs from Recom are designed for railway's harsh environments...
Scale-iDriver SiC-MOSFET gate drivers are claimed to have the highest output gate current and fast shut down ...
ICs from Infineon, the TLE985x series will support automotive customers in replacing relays in motor control applications...
New LED driver family with eight new AEC-Q101 qualified devices from Nexperia...
Power Integrations announced at embedded world in Nuremberg the SiC MOSFET SIC1182K SCALE-iDriver ...
New Book on Semiconductor Power Devices: Physics, Characteristics, and Reliability...
The second generation 650V diodes from Littelfuse operate at high temperatures and have negligible reverse recovery current...
Miniature power supplies from Fidus Power can deliver 250W when conduction-cooled or 550W fan-cooled...
JEDEC Solid State Technology Association announces the publication of JEP173 - Dynamic On-Resistance Test Method Guidelines...