Features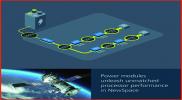 NewSpace demands low voltage, high current power for performance and longevity - Nov 2022
Matt Renola, Senior Director, Global Business Development – Aerospace & Defense
More details...
Power Electronics Europe News
Additions to Nexperia's PMEGxxxTx family are rated at up to 100V and 20A for low switching losses and increased SOA...
New Motor-Expert IEC6730 Class A-ready software tackles new Energy efficiency regulations for appliances...
InnoSwitch3-AQ ICs are up to 90% efficient with low 15 mW no-load power consumption and increased voltage margin for 400 V and 800 V batteries...
SCALE-2 driver support 130 mm x 140 mm IGBT high-power modules from all major manufacturers...
Believed to be the first to protect PV roof shingles from reverse over-current, the 400PV Fuse series protects from heat...
The low-Ohmic 10W GMR320 and the 15W PSR shunt resistors are designed for high power applications...
At this year's event, EPC launches the EPC9146 GaN-powered motor drive demo board for three-phase motor drives...
Inductors released by Murata have broadband impedance for in-vehicle power over coax (PoC) systems in vehicles...
Infineon has introduced aluminium nitride (AIN) ceramic to its EasyDual CoolSiC MOSFET power modules...
Flex Power Modules introduces the BMR474 digital non-isolated PoL regulator in a compact single inline package ...