Features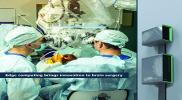 Edge Computing Leverages Modular Power in Scalable Micro Data Centres - May 2022
Edge computing is essential to realizing the full potential of artificial intelligence (AI), machine learning and internet of things (IoT). These technologies are being infused into every corner of...
More details...
Power Electronics Europe News
The CWT HF family of clip around Rogowski probes include the CWTMini50HF which is highlighted at PCIM (10-12 May)...
LEM introduces first integrated current sensor with sigma delta bitstream output at PCIM Europe 2022...
The STNRG012 single-chip digital power controller is designed to simplify LED design, says STMicroelectronics....
14 models have been added to the PMDE package for its RBxx8, RFN and VS series diodes for automotive applications....
Components in miniature DFN packaging with side-wettable flanks save space in smart and electric vehicles...
The latest addition to the MagI≥C-FDSM power module product range is suitable for 48V industrial voltage networks...
Alpha and Omega Semiconductor releases the AOZ8S204BL2 and ≠AOZ8S205BL2 TVS for USB Type-C and HDMI applications....
Toshiba Electronics announces mass production of 21 Arm Cortex-M3 core based TXZ3A microcontrollers....
Designed for automotive use up to 150įC, Murata offers the DFE32CAH_R0 series in 1210 metal cores...
The 600V 15A Intelligent Power Module (IPM) is based on TrenchStop IGBT RC-D2 switches and SoI gate driver technology...