Features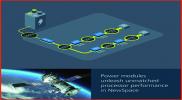 NewSpace demands low voltage, high current power for performance and longevity - Nov 2022
Matt Renola, Senior Director, Global Business Development – Aerospace & Defense
More details...
Power Electronics Europe News
The STGAP2SiCSN single channel gate driver from STMicroelectronics controls SiC MOSFETs and has PWM control...
The ADL8150 series of low phase noise GaAs monolithic microwave ICs (MMICs) from ADI are now available from Richardson RFPD...
The voltage reference IC is based on the company's MCP1501 Vref architecture and is qualified to AEC-Q100 Grade 1....
VoltServer uses standard data cables and endpoint transformation to deliver significant power safely across long distances ...
AMTE's plant in Thurso/UK, implementation of new technologies and development of local sovereign supply chains – effectively is a forerunner to the future 1-2 GWh gigafactory...
Qualified to AEC-Q200, the R53 series of miniature polypropylene film X2 EMI suppression capacitors is available from Kemet....
The HPA1K5 programmable constant voltage (CV) and constant current (CC) power supplies are announced by XP Power...
Alpha and Omega Semiconductor supplies the coil driver in a highly integrated QFN 3.0 x 3.0mm package...
To meet the need for smaller, lighter systems in EVs and hybrid EVs, Texas Instruments offers the UCC14240-Q1....
Analog Devices has developed the LTC3337 nanopower primary (non-rechargeable) cell battery state-of-health monitor...