Features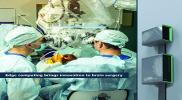 Edge Computing Leverages Modular Power in Scalable Micro Data Centres - May 2022
Edge computing is essential to realizing the full potential of artificial intelligence (AI), machine learning and internet of things (IoT). These technologies are being infused into every corner of...
More details...
Power Electronics Europe News
Additions to the chassis mount, AC/DC power supplies offer safety standards for industrial and consumer designs...
Nexperia's MJD series now available covering 2 – 8 A and 45 – 100 V ...
The MJD series cover 2.0 to 8.0A and 45 to 100V and is designed for use in automotive and industrial applications...
The RAC05-K/PD3/H 5W Class II AC/DC converter has been designed by Recom for high transient installations...
SiC portfolio with 1700V MOSFET die, discrete and power module devices extend designers' options for efficiency and power density...
Tagore introduces 650V GaN Power IC, TP44200NM, comprising GaN Power FET with monolithically integrated driver ...
High cooling capacity with minimal pressure drop are convincing features of the new IsoMAXX cold plates from Mersen...
Toshiba's TLP3910 photovoltaic-output photocoupler can drive the gates of high voltage power MOSFETs in SSR function...
The low-voltage MAX25512 retains full, constant brightness in vehicle displays even during cold crank, says Maxim Integrated...
Three battery charger ICs engineered for energy harvesting while moving have been released by e-peas...