Features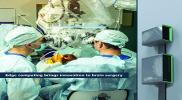 Edge Computing Leverages Modular Power in Scalable Micro Data Centres - May 2022
Edge computing is essential to realizing the full potential of artificial intelligence (AI), machine learning and internet of things (IoT). These technologies are being infused into every corner of...
More details...
Power Electronics Europe News
Three mixed-voltage NPCs are integrated into a single flow 1 housing for 1200V solar three-phase inverter applications....
CT-Concept ships its first products with SCALE-2 gate driver chipset enabling soft shutdown in the event of a short circuit....
Advanced Power Electronics has introduced a small load switch with controlled turn-on and very low on-resistance....
Advanced photovoltaic (PV) technologies will increasingly find their way into mainstream solar manufacturing soon....
Three models have been added to LEMís HO series of PCB through-hole mounting current transducers....
Over 300 companies were asked about their preferences and opinions on PV inverters in a recent survey by IHS....
ETSI- and ITU-compliant 1.75kW modules have been added to Vicorís isolated BCM (Bus converter Module) range....
Wide bandgap (WBG) technologies will reshape part of the industry, especially SiC for high-voltage devices....
At PCIM 2014 in Nuremberg PEE will host a Panel Discussion with leading industry experts on the hot topic GaN and SiC vs Si...
High voltage units have been introduced within the TDK-Lambda Z series....