Features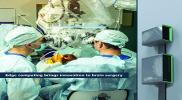 Edge Computing Leverages Modular Power in Scalable Micro Data Centres - May 2022
Edge computing is essential to realizing the full potential of artificial intelligence (AI), machine learning and internet of things (IoT). These technologies are being infused into every corner of...
More details...
Power Electronics Europe News
High-power range options in the WHPC resistor series can double or triple the standard power rating, says TT Electronics...
Three devices from Diodes enhance high power density USB Type-C power delivery (PD) systems....
Rohm extends diode offering to 178 with the introduction of 24 Schottky barrier diodes for automotive applications...
Texas Instruments says the TPS61094 buck/boost converter can extend battery life by up to 20% in low-power applications...
Allego MicroSystems has released the A89307 automotive-qualified gate driver IC for battery cooling fans and HVAC systems...
To facilitate the adoption of hydrogen in electric vehicles (EVs), BrightLoop Converters offer the DCHV320 DC/DC converter....
High power integrated magnetic components for power converters in PHEV, HEV, BEV or FCEV automotive design...
Infineon has developed the XENSIV TLE4972 for traction inverters in hybrid and battery-driven vehicles...
Two automotive-grade IHTH through-hole inductors are offered in the compact 1500 case size by Vishay Intertechnology...
This book is a guide for designers and students alike to become familiar with this exiting technology...