Features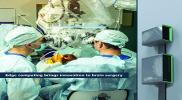 Edge Computing Leverages Modular Power in Scalable Micro Data Centres - May 2022
Edge computing is essential to realizing the full potential of artificial intelligence (AI), machine learning and internet of things (IoT). These technologies are being infused into every corner of...
More details...
Power Electronics Europe News
The 1EDI EiceDRIVER is a single channel gate driver for applications with isolation voltages of up to 1200V. ...
PoL, non-isolated, DC/DC converters based on the Digital Control Architecture from Powervation, has been released by Murata....
A power analyzer from Tektronix addresses new demands for energy efficiency, regulations and new silicon technologies....
APEC 2014...
The D1U86G, 460W front end power supplies from Murata Power Solutions achieve conversion efficiency of 92% at 50% full load....
Linear Technology adds the LT3086 to the LDO family of low dropout linear regulators....
Revenues from UPS services in 2014 are forecast to grow by an estimated 7.7%, according to IHS research....
Yuasa Battery Sales adds a high capacity 12V model to its SWL4250 range of industrial valve regulated lead acid batteries....
A series of power MiniLEDs in 2.3x1.31.4mm SMD packages has been announced by Vishay Semiconductors. ...
Sunpower adds four constant current LED power supplies with PFC to its range....