Features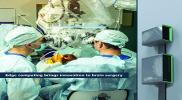 Edge Computing Leverages Modular Power in Scalable Micro Data Centres - May 2022
Edge computing is essential to realizing the full potential of artificial intelligence (AI), machine learning and internet of things (IoT). These technologies are being infused into every corner of...
More details...
Power Electronics Europe News
A wireless automotive battery management system (BMS) concept car uses battery stack monitors from Linear Technology...
The TMDC series by Traco is a range of fully encapsulated low profile DC/DC converter modules, now available from Powersolve....
Able to drive MOSFETs, IGBTs and GaN power devices, the 1EDN EiceDriver gate driver IC is compatible to the industry standard...
Developed for the latest Intel processor, a PMIC reduces power consumption in a small form factor, says Rohm Semiconductor....
Believed to include the first digital multi-phase PWM controllers with AVSBus, 12 controllers have been announced by Intersil...
Efficient Power Conversion (EPC) and JJPlus will collaborate on the design of wireless charging designs....
Qualcomm invests $4.7 billion primarily for automotive...
The automotive-grade ISL76534 enables bright, high-contrast LCDs, says Intersil, with low power and gamma calibration....
A new reports shows that the increased use of renewables has led to an unprecedented change in energy supply....
The AP3301 quasi-resonant (QR) PWM controller offers protection and reliability in power adapter applications, says Diodes....