Features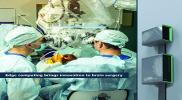 Edge Computing Leverages Modular Power in Scalable Micro Data Centres - May 2022
Edge computing is essential to realizing the full potential of artificial intelligence (AI), machine learning and internet of things (IoT). These technologies are being infused into every corner of...
More details...
Power Electronics Europe News
Power Integrations launched a new switching power supply IC that combines offline power conversion, lossless zero-cross detection and, optionally, X-capacitor discharge functions in a compact SO-8C package. ...
Two bi-directional, voltage-level translation general purpose I/O expanders from Diodes are AEC-Q100-certified...
Regulated SIP8 DC/DC converters in the RS3E family have high power density and an industrial temperature operating range....
Two MOSFETs announced by Nexperia are claimed to deliver the highest power density for automotive and industrial applications...
The company claims to have developed the industry's highest (8V) gate breakdown voltage technology for 150V GaN HEMT devices...
The ESDCAN03-2BM3Y transient voltage suppressor (TVS) saves 75% PCB space, says STMicroelectronics...
Analog Devices has introduced a 16bit, high speed, DAQ µModule for power analysis for digitizing fast transient signals...
The D2PAK-7L SiC FETs ease the path for SiC in demanding applications which require high thermal capabilities...
Power Integrations describes the high frequency, ZVS flyback switcher ICs as a new class of mobile charging devices...
Efficient Power Conversion (EPC) has created the EPC9137 scalable demon board based on eGaN FETs for 48 to 12V systems...