Features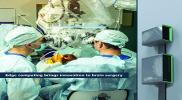 Edge Computing Leverages Modular Power in Scalable Micro Data Centres - May 2022
Edge computing is essential to realizing the full potential of artificial intelligence (AI), machine learning and internet of things (IoT). These technologies are being infused into every corner of...
More details...
Power Electronics Europe News
Murata says that its NFM15HC435D0E3 multi-layer ceramic capacitor (MLCC) provides 4.3μF capacitance in a 0402 case....
Toshiba has designed the DF2B6M4BSL TVS diode for the ESD protection of antennas and high-speed signal lines....
The GaN-based inverter reference design enhances motor system performance, range, precision and torque, says EPC...
Non-isolated digital quarter brick DC/DC converter delivers 1200W peak power without stress, says Flex Power Modules...
The RACM600-L is a 600W peak AC/DC power supply for industrial, household and medical applications....
Power Integrations adds two high-voltage InnoSwitch3-AQ ICs to reduce component count in vehicles and industrial designs...
Phase 1 Production will increase production capacity 2.5 times...
Element Six's single-crystal diamond technology will complement II-VI's proprietary polycrystalline diamond platform to deliver a broader range of differentiated solutions ...
Advanced Linear Devices claims its ALD310702A / ALD310702 is the industry's first nano-power precision p-channel MOSFET array...
The AOZ18101D1 series of eFuse devices from Alpha and Omega Semiconductor have 20mΩ RDS(on) are offered in a DFN package....