Features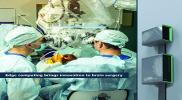 Edge Computing Leverages Modular Power in Scalable Micro Data Centres - May 2022
Edge computing is essential to realizing the full potential of artificial intelligence (AI), machine learning and internet of things (IoT). These technologies are being infused into every corner of...
More details...
Power Electronics Europe News
Rohm Semiconductor has introduced the BD9G500EFJ-LA and BD9F500QUZ buck DC/DC converter ICs with a built-in MOSFET....
Infineon Technologies and Amber Solutions announced on July 6 an alliance on a range of Silicon opportunities anchored around Amberís breakthrough digital control of electricity with embedded intelligence...
Welsh semiconductor plant to focus on MOSFETs, IGBT, Analog and Compound Semiconductor Automotive-grade products...
The U50SU4P162 provides 48V / 12V bi-directional conversion for high efficiency, high density data centres, says Delta...
New features have been added by TDK-Lambda for the 500W rated configurable XMS500A series of AC/DC power supplies....
Power Integrations adds InnoSwitch3-AQ to manage voltage transients in EV inverters, battery management and climate control ...
Two eGaN FETs from EPC, the EPC2065 and EPC2054EPC, meet BLDC motor drive and high resolution ToF applications...
Alpha and Omega Semiconductor introduces two TVS, the single-channel AOZ8S303BLS-24 and AOZ8S305BLS-24 ...
Serially produced single-component diode and thyristor modules have been introduced by Proton-Electrotex....
Power Integrationsí new InnoSwitch4-CZ devices incorporating a robust 750 V GaN primary switch and a novel high frequency active clamp flyback controller to facilitate a new class of ultra-compact chargers ...