Features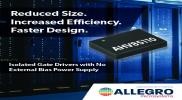 Solving the Challenges of Increasing Power Density By Reducing Number of Power Rails - March 2023
By Andy Wang, Business Line Director, High-Voltage Power Business Unit Allegro MicroSystems
More details...
AC/DC power factor correction module offers up to 1,512W
A full brick package developed by TDK-Lambda, the PF1500B-360, is for high voltage distributed power architectures
More details...
Power Electronics Europe News
The latest 150W and 300W half brick DC/DC converters from Recom are in the industry standard, half brick format....
Alpha and Omega Semiconductor (AOS) has introduced 650V and 750V automotive-qualified aSiC MOSFETs ...
The initial eGaN FETs is available with double the power density compared to EPC's previous generation devices....
The CN-110B series converters have an input range of 43 to 160V DC for railway power systems, says TDK-Lambda....
High surge rating surface mount TVS diodes are half the size of other SM devices, says Littlefuse....
Renesas Electronics' RAA271082 automotive PMIC is ISO-26262-compliant and results in HD video over inexpensive cabling....
Full HB-compatible serialiser and deserialiser ICs by Rohm can be daisy-chained for transmission over multiple routes....
Advanced Linear Devices (ALD) adds a precision MOSFET to its SAB MOSFET family....
The nPM1100 is claimed to have a higher efficiency-to-size ratio than any other PMIC (power management IC)....
Infineon's IM523 series of the CIPOS Mini family is claimed to increase reliability and performance for drive applications....