Features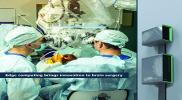 Edge Computing Leverages Modular Power in Scalable Micro Data Centres - May 2022
Edge computing is essential to realizing the full potential of artificial intelligence (AI), machine learning and internet of things (IoT). These technologies are being infused into every corner of...
More details...
Power Electronics Europe News
EPC has introduced the EPC2221 common source dual GaN FET rated at 100V, 58mΩ, and 20A pulsed current....
The constant voltage PMICs are optimised for intermittent and pulsed power outputs for intermittent input energy harvesting...
Discrete transistors, based on GaN technology, by NXP enable small, lightweight 5G radios for urban/suburban deployments...
An all-in-one secure storage subsystem includes key provisioning for consumer and automotive systems for the latest standard....
The 1200W rated OFI1200A AC/DC power supply for industrial applications has been released by Powerbox....
U-MOSX-H process reduces losses and voltage spikes in the TPH9R00CQH MOSFET, says Toshiba Electronics Europe....
The Diatom (NH16D3045) is a high-performing energy harvesting power management IC (PMIC), says Nowi....
Rohm says the power supply technology improves the load transient response characteristics of switching regulators and LDOs...
Recom has introduced the RAC10E-K/277 series of board-mount AC/DC encapsulated modules....
The EPC9171 evaluation board demonstrates the benefits of GaN technology for high volume charger applications, says EPC....