Features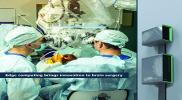 Edge Computing Leverages Modular Power in Scalable Micro Data Centres - May 2022
Edge computing is essential to realizing the full potential of artificial intelligence (AI), machine learning and internet of things (IoT). These technologies are being infused into every corner of...
More details...
Power Electronics Europe News
The ECH450 compact power supplies from XP Power offers class B conducted and radiated emissions and medical approvals....
Silicon Labs introduces PMICs companion chips to its EFR32 wireless devices and EFM32 microcontrollers....
The CoolMOS CFD7A series can be used in on-board charger systems and DC/DC converters for electric vehicles....
The Rx and Tx coils are direct replacements for end-of-life devices for portable electronics and Qi wireless charging pads...
The DDA series of DC/DC power supplies have a wide input range of 9.0 to 53V DC and provide output voltages of 3.3 to 24V....
Flex Power Modules extends its range of DC/DC converters with the PUB-2M series, designed for industrial applications....
Vicor says that the DCM5614 provides unmatched power density of 451W/in3 and weighs just 178g. ...
The XDL605/XDL606 series of step-down micro DC/DC converters are designed with an integrated coil to save space...
GaN technology in power supplies for displays can be increased by up to 91% using the InnoSwitch3-MX isolated switcher ICs....
CUI has added its first four contact, surface mount, non-isolated converter, the VX078-500-M, to its DC/DC converter range....