Features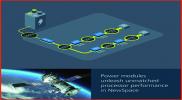 NewSpace demands low voltage, high current power for performance and longevity - Nov 2022
Matt Renola, Senior Director, Global Business Development – Aerospace & Defense
More details...
Power Electronics Europe News
The InnoSwitch4-CZ is the latest in the Power Integrations family and boosts efficiency to 95% for compact form factors....
Murata and NXP Semiconductors has developed a low power, small form factor combination module...
The addition to the GaN FET portfolio is 13.9mm2 and has a high density to accommodate space-limited designs. ...
Infineon Technologies has announced the first release in its LLC family of controllers for inductive wireless (Qi) charging....
Diodes has released the DMTH4M70SPGWQ 40V automotive-compliant MOSFET in its Power DI 8080-5 package....
Expanded SiC portfolio with high-voltage (2 kV) to provide devices for next-generation photovoltaic, EV charging and energy...
The CWT HF family of clip around Rogowski probes include the CWTMini50HF which is highlighted at PCIM (10-12 May)...
LEM introduces first integrated current sensor with sigma delta bitstream output at PCIM Europe 2022...
The STNRG012 single-chip digital power controller is designed to simplify LED design, says STMicroelectronics....
14 models have been added to the PMDE package for its RBxx8, RFN and VS series diodes for automotive applications....