Features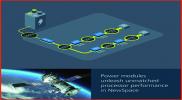 NewSpace demands low voltage, high current power for performance and longevity - Nov 2022
Matt Renola, Senior Director, Global Business Development – Aerospace & Defense
More details...
Power Electronics Europe News
Microcontroller supplier, Renesas Electronics has announced it will acquire power management and analogue company, Intersil...
Three encapsulated DC/DC converters from CUI, the PDQ10‑D (10W), PDQ15‑D (15W) and PDQ30‑D (30W) are in an industry package....
The mergers & acquistions continue on large scale...
The first industrial class DC/DC converter modules in the ICQ series has been announced by Murata Power Solutions....
16bit, low power microcontrollers have superior processing capability and low power consumption, claims Lapis Semiconductor....
The A5989 40V motor driver IC combines a bipolar stepper and high current DC motor driver IC....
Two AC/DC converters from Recom are offered by Dengrove Electronic Components for smart buildings and IoT applications....
A report finds that solar power is maturing, with robust growth for integrators and installers, but a setback for Europe....
TO-220 FullPAK transistors include what is claimed to be the first 1500V super-junction MOSFET in the arcing-resiant package....
Miniature IC transducers for AC and DC isolated current measurement up to 100kHz have been announced by LEM....