Features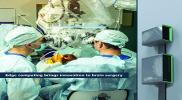 Edge Computing Leverages Modular Power in Scalable Micro Data Centres - May 2022
Edge computing is essential to realizing the full potential of artificial intelligence (AI), machine learning and internet of things (IoT). These technologies are being infused into every corner of...
More details...
Power Electronics Europe News
Offered in open-frame and fully enclosed versions, the H0331 DC/DC converters from Powerstax also have input options....
Compact Integrated Power Modules (IPMs) from International Rectifier are for low power motor drive application...
A new, higher current device has been added to the 6.5kV press-pack IGBT family, by IXYS. ...
PCIM Europe has recorded 8,006 visitors passed through the doors of this year's show in Nuremberg....
Product Approvals launches the Compliance Management Service for power electronics....
Valley current mode control allows very short "on" times to be achieved, says Allegro MicroSystems Europe, of its A8672....
Stackable U-cores from EPCOS feature a modular ferrite design for flexibility and economy....
Intersil has announced the ISL8216M 80V, 4A non-isolated DC/DC step-down power module. ...
Rutronik offers the AP3595 dual phase, synchronous rectified buck controller from Diodes. ...
Infineon Technologies claims it has released the smallest CoolMOS MOSFET, the ThinPAK 5x6....