Features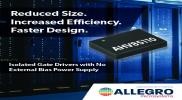 Solving the Challenges of Increasing Power Density By Reducing Number of Power Rails - March 2023
By Andy Wang, Business Line Director, High-Voltage Power Business Unit Allegro MicroSystems
More details...
AC/DC power factor correction module offers up to 1,512W
A full brick package developed by TDK-Lambda, the PF1500B-360, is for high voltage distributed power architectures
More details...
Power Electronics Europe News
Proton-Electrotex introduces low inductance MIDA half-bridge IGBT modules with improved thermal and power cycling....
Diodes from Infineon Technologies, the Prime Soft family are designed for modern IGBT applications, says the company....
Supercapacitors from CAP-XX are believed to be the first to deliver peak power to support or replace batteries....
Toshiba Electronics Europe adds the TB67H420FTG for higher voltage applications such as robotic vacuum cleaners....
Analog Devices has announced the Power by Linear LTM4661 low power, step-up µModule regulator....
Four companies form the Power Stamp Alliance to enable a multi-vendor supply chain for open compute projects and data centres...
Designed for harsh environments, Recom's RPA100H and RPA200H are available from Dengrove Electronic Components....
The PKU4300D 1/ 16th bus converter can replace 1 /8th devices in distributed and intermediate bus applications....
Alpha and Omega Semiconductor's Type-C Power Delivery (PD) -compliant load switch has up to 28V over-voltage protection...
Recom has added two- and three-phase AC/DC DIN-rail power supplies to its power supplies ranging from 0.25 to 1000W....