Features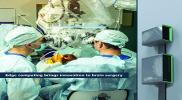 Edge Computing Leverages Modular Power in Scalable Micro Data Centres - May 2022
Edge computing is essential to realizing the full potential of artificial intelligence (AI), machine learning and internet of things (IoT). These technologies are being infused into every corner of...
More details...
Power Electronics Europe News
Two mid-voltage, high current photorelays announced by Toshiba Electronics Europe will replace mechanical relays....
PolarFire FPGAs from Microsemi are now interoperable with Analog Devices' AD9371 RF transceiver to increase use options....
Analog Devices introduces the LTC7004, high speed, high side N-channel MOSFET driver which operates up to a 60V supply....
Microchip has announced the SST26WF064C, a 1.8V Serial Quad I/O SuperFlash memory which reduces overall power consumption. ...
The ISL32741E and ISL32740E transceivers deliver the industry's highest working voltage, claims Intersil, and low EMI....
An EPC9083 development board from Efficient Power Conversion (EPC) uses a 200V eGaN FET to evaluate efficiency up to 15MHz....
Standing 5.5mm high, the Recom R1X, 1W unregulated DC/DC converter are now available from Dengrove Electronic Components....
The XC6808 series of charging ICs are for single-cell Li-Ion/polymer secondary batteries in wearable products or IoT devices....
The ML100SRI DC/DC converters by MicroPower Direct are designed to save space in board level power distribution applications....
EPC has introduced a Class 4 AirFuel Alliance-compatible wireless power demonstration kit for wireless charging....