Features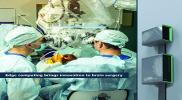 Edge Computing Leverages Modular Power in Scalable Micro Data Centres - May 2022
Edge computing is essential to realizing the full potential of artificial intelligence (AI), machine learning and internet of things (IoT). These technologies are being infused into every corner of...
More details...
Power Electronics Europe News
Fairchild has released its first 1200V silicon carbide (SiC) diode, the FFSH40120ADN, designed for rugged industrial uses....
Two low dropout regulators (LDOs) from Analog Devices offer low noise performance to improve audio quality....
Navitas introduces at APEC a ww first high-voltage GaN half-bridge...
Vicor's 48V Direct-to-PoL (point-of-load) components support the data centre infrastructure Google outlined at the OCP Summit...
The SPC-54/4.4-L12PG-C is designed to deliver isolated 54V Power Over Ethernet (PoE) at up to 240W. ...
Low loss features in the G8H series IGBTs (insulated gate bipolar transistors) minimise power loss says Renesas Electronics....
The 40V DMTH4004SPSQ and DMTH4005SPSQ MOSFETs are rated for operation up to 175°C....
Two 5V multiplexers from Intersil have a choice of channels to extend the radiation tolerant portfolio....
The EPC9065 can be used as the amplifier stage for AirFuel Alliance Class 4 and Class 5 wireless power transfer applications....
The latest Recom RACM40 and RACM65 medical power supplies are now available from Dengrove Electronic Components....