Features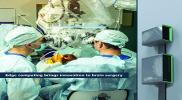 Edge Computing Leverages Modular Power in Scalable Micro Data Centres - May 2022
Edge computing is essential to realizing the full potential of artificial intelligence (AI), machine learning and internet of things (IoT). These technologies are being infused into every corner of...
More details...
Power Electronics Europe News
The AOZ97774QE supports 5G wireless, networking, optical communications and general purpose DC/DC applications....
Easing the transition to high-efficiency wide-bandgap technology, STMicroelectronics has released the MasterGaN3 and MasterGaN5 integrated power packages for applications up to 45W and 150W, respectively...
ST and Cree/Wolfspeed announced on August 17 the expansion of an existing multi-year, long-term silicon carbide wafer supply agreement...
Designed for light vehicle generators the diode is produced by Bosch and based on Infineonís integrated chip technology...
The TPHR7404PU reduces EMI in switching power supply application, says Toshiba Electronics Europe...
The latest member of the Qspeed diode portfolio can replace SiC parts in automotive applications with performance & cost bene...
Microchip and Clean Sky consortium have developed three aerospace-qualified baseless modules to reduced aircraft emissions....
Improved signal quality in UPI 2.0 and PCIe 4.0 interfaces is delivered with the P13UPI1608 linear ReDriver IC, says Diodes...
Vishay Intertechnology says that its latest IHLPL composite inductor is the first available in the 7575 case size...
The EPC7014UB GaN transistor costs less, and is more efficient than the nearest comparable rad-hard silicon MOSFET, says EPC...