Features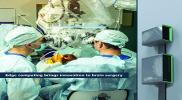 Edge Computing Leverages Modular Power in Scalable Micro Data Centres - May 2022
Edge computing is essential to realizing the full potential of artificial intelligence (AI), machine learning and internet of things (IoT). These technologies are being infused into every corner of...
More details...
Power Electronics Europe News
Dengrove Electronic Components adds Recom's R-78S boost switching regulators for long lifetimes through low battery discharge...
Visitors to the Laser World of Photonics Fair will be able to see curamik cooling solutions, including CoolPerformance Plus....
Expanding its 1200V discrete IGBT portfolio, Infineon Technologies has added a 75A model in the TO-247PLUS package....
Operating at up to 2.25MHz, the LTC7800 DC/DC controller reduces circuit size, says Analog Devices....
Navitas Semiconductor offers a 150W AC/DC reference design using the company's GaN power ICs....
Artesyn Embedded Technologies adds 72 models to its ERM family of DC/DC converter modules designed for railway rolling stock....
The EPC2046 GaN power transistor delivers 200V, 25mΩ in a small form factor, claims Efficient Power Conversion (EPC)....
TDK Corporation has introduced the iFB series of 557 to 600W rated DC/DC converters. ...
The CIPOS Mini intelligent power module (IPM) combines a single switch boost PFC stage and a three-phase inverter....
Isolated eight-brick converters offer 95% efficiency and 'leading' thermal performance at ambient temperatures, says Ericsson...