Features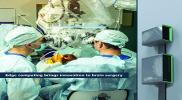 Edge Computing Leverages Modular Power in Scalable Micro Data Centres - May 2022
Edge computing is essential to realizing the full potential of artificial intelligence (AI), machine learning and internet of things (IoT). These technologies are being infused into every corner of...
More details...
Power Electronics Europe News
Integrating digital and analogue circuitry increases performance and reduces system cost, says Navitas Semiconductor....
The conference programme for this year's PCIM (16 to 18 May) in Nuremberg has been confirmed....
The AZ 7621 P series of compact latching relays switches 16A at 250V AC for energy smart applications....
Planned Acquisition denied by US CFIUS...
Technological basis set for high performance electronic circuit breakers ...
The LTC4279 serves LTE picocell basestations, LED signage, security monitoring, home automation and machine vision systems....
The OPA388 is the first zero-drift, zero-crossover operational amplifier, says Texas Instruments....
There are 96 models in the MD100x series of 1W DC/DC converters from MicroPower Direct....
Claimed to offer the industry's lowest RDS(on), the SiHP065N60E is the first device in the V E series....
Modules in the RTC series from Recom are provided in a compact six-pin SMD open-frame package....