Features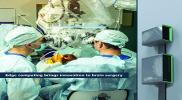 Edge Computing Leverages Modular Power in Scalable Micro Data Centres - May 2022
Edge computing is essential to realizing the full potential of artificial intelligence (AI), machine learning and internet of things (IoT). These technologies are being infused into every corner of...
More details...
Power Electronics Europe News
Rectifiers in the AlphaZBL family target high power adapters and power supplies, says Alpha and Omega Semiconductor (AOS)...
Infineon Technologies has combined a 50A Trenchstop 5 fast-switching IGBT and a CoolSiC Schottky diode for a hybrid device...
The CBI series of DIN rail mount DC-UPS from Italian manufacturer, Adel Systems, is now available from Relec Electronics...
SiC enables conversion efficiencies of up to 99.5 % at smaller size and weight...
Efficient Power Conversion (EPC) expands its AEC Q101 range with the EPC2219 which has an integrated reverse gate clamp diode...
Advanced Energy offers a 48V DC-input power supply designed for compute, storage and networking applications...
Supplied in a 16th brick, the PKU4913D has been added to the PKU-D series. It is aimed primarily at telecomms applications....
Volvo Cars' first pure electric SUV — the XC40 Recharge — will feature ADI's ICs for BMS and Audio...
RS Components adds KOA's resistors which are optimised for industrial and automotive, test instruments and audio applications...
Nexperia offers half bridge, high and low side automotive MOSFETs in the LFPA56D package...