Features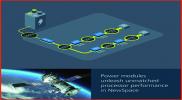 NewSpace demands low voltage, high current power for performance and longevity - Nov 2022
Matt Renola, Senior Director, Global Business Development – Aerospace & Defense
More details...
Power Electronics Europe News
650V SiC Schottky diodes,by ON Semiconductor, are claimed to offer higher efficiency, power density and lower system costs....
The ZXGD3113 synchronous rectifier controller, when coupled with a MOSFET, can replace lossy Schottky rectifiers, says Diodes...
A current sensor IC from Allegro MicroSystems Europe is designed for giant magneto-resistive (GMR) projects....
A synchronous buck converter and boost controller released by Analog Devices operates from 3.0 to 42V inputs....
Designed for rugged industrial and automotive applications, Texas Instruments releases two families of synchronous converters...
Maxim Integrated claims that its MAX12900 sensor saves space and up to 50% power compared with traditional models....
Diodes says that the DESD3V3Z1BCSF-7 is its most advanced dataline transient voltage suppressor (TVS)....
An output voltage extension for 3.0 and 4.0W smart home and IoT AC/DC converters has been announced by Recom. ...
LED driver ICs in the LYTSwitch-6 family from Power Integrations are safety isolated for smart lighting....
A family of DC/DC converters released by Vicor, are designed to power modern railway applications. ...