Features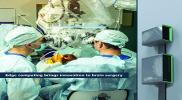 Edge Computing Leverages Modular Power in Scalable Micro Data Centres - May 2022
Edge computing is essential to realizing the full potential of artificial intelligence (AI), machine learning and internet of things (IoT). These technologies are being infused into every corner of...
More details...
Power Electronics Europe News
13 200 and 60V FRED Pt fast recovery rectifiers have been added to the eSMP series by Vishay Intertechnology....
Infineon Technologies' IRPS5401, is a five output PoL digital voltage regulator for multi-rail power sytems....
Dengrove Electronic Components supplies Recom DC/DC converters, designed for powering high-slew-rate gate drivers....
Diodes and Weltrend Semiconductor release a joint reference design for one of the first chargers to support fast charging...
The RKZ3 is a pin-compatible upgrade to Recom's 2W SIP7 converters, providing 50% more power density in the same footprint....
The EPC9086 high efficiency, half-bridge development board from Efficient Power Conversion (EPC) can operate up to 10MHz....
Alpha and Omega Semiconductor announces the first in a family of P-Channel MOSFETs. ...
Dengrove Electronic Components announces that it now offers Recom's latest 2MOPP 1.0W DC/DC converter series....
The ChiP DCM (DC/DC converter modules from Vicor have been extended with a range of ±1% voltage regulation devices....
Gresham Power, now offers two series of DC/DC converters, approved for medical use, from Polytron Devices....