Features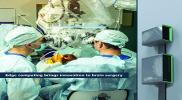 Edge Computing Leverages Modular Power in Scalable Micro Data Centres - May 2022
Edge computing is essential to realizing the full potential of artificial intelligence (AI), machine learning and internet of things (IoT). These technologies are being infused into every corner of...
More details...
Power Electronics Europe News
Intelligent power modules (IPMs) from Infineon include the CIPOS Micro IPM with integrated TrenchStop 6 IGBT for motor drives...
An automotive-compliant linear LED controller for automotive LED lighting, is available from Diodes....
Two Hall-effect sensors ICs from Allegro Microsystems have integrated self-test to enhance ADAS safety....
Innovative 91 %-efficient single-stage architecture provides independently regulated multiple CV and CC outputs...
Dengrove Electronic Components offers Recomís space-saving RPM3.3 and RPM5.0 non-isolated DC/DC converters....
Claimed to offer the lowest DC resistance in the industry, the XGL4020 moulded power inductors are available from Coilcraft....
Low cost GaN power transistors in the GS-065 family from GaN Systems are low current devices for sub-1kW applications....
Claiming to offer one of the highest density ratings available, the LGA50D has been released by Artesyn Embedded Technologies...
Designed to drive small brush-type, stepper, or brushless motors, the HVC 4420F has been added to the Micronas range by TDK....
Power supplies from Vicor are designed to VITA 62 for 3U Open VPX systems....